Resolve excessive seating forever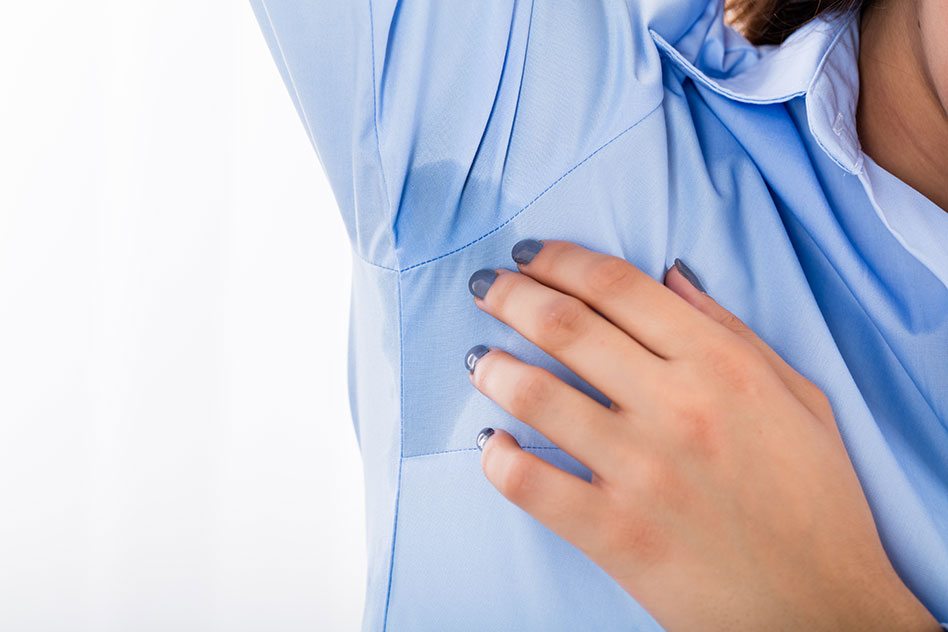 265 Views
30th December 2019
A lot of people tend to get sweaty when they are nervous, anxious or tired. It could be a romantic date or exercise. Sure, everyone sweats when they are working out but when it's frequent, it can become overwhelming.
What exactly is Hyperhidrosis?
It basically means profuse sweating. Sweating is a perfectly natural bodily function and is necessary for thermoregulation. It cools down the body but in the case of hyperhidrosis, sweating begins even when the body is not over-heated. When sweating has no outward cause, it is termed as diaphoresis. People who suffer from hyperhidrosis experience sweating all over the body, especially in the area under the breasts and the groin region.
Some people have to endure excessive sweating in the hands which can be rather awkward when you're faced with shaking hands with someone. There's no set pattern of sweating. It can happen all at once or in only a few areas simultaneously. The most commonly affected regions are the hands and armpits.  Fortunately, just as there's a treatment for excessive drooling, there is a solution for profuse sweating as well.
Victims of hyperhidrosis are not freaks. They don't necessarily suffer from physical abnormalities. In-fact, they have the same size and number of sweat glands as everyone else. The only difference is that their sweat glands are hyperactive.
Symptoms that ascertain the condition
Googling for diagnosis may not be the wisest suggestion but there are visible symptoms that can aid in reaching a conclusion.
Visible sweat: You could just be lounging in a cafeteria and may find beads of sweat on your arms or hands. One's clothes also start becoming wet.
Leaving imprints of sweat: Everything that you come in contact with will be laced with sweat like a leathered cushion that you're sitting on, doorknobs, books, etc.
Moist white skin: When skin is in contact with water for a prolonged period, it will begin to pale and look crumpled. The same occurs with hyperhidrosis.
Skin infections: If you're faced with the trauma of repeated skin infections, then there's a cause for worry.
This can easily impact your social and personal life and bring down your self-esteem. It can be extremely embarrassing to watch the sweat practically drip off your body. If you're looking to resolve this issue, there are over-the-counter topical prescriptions. You could also book an appointment with a competent dermatologist in much-commended centers like the Clinique Anti-aging clinic.