Erasing the Marks: Mastering Pigmentation Removal Techniques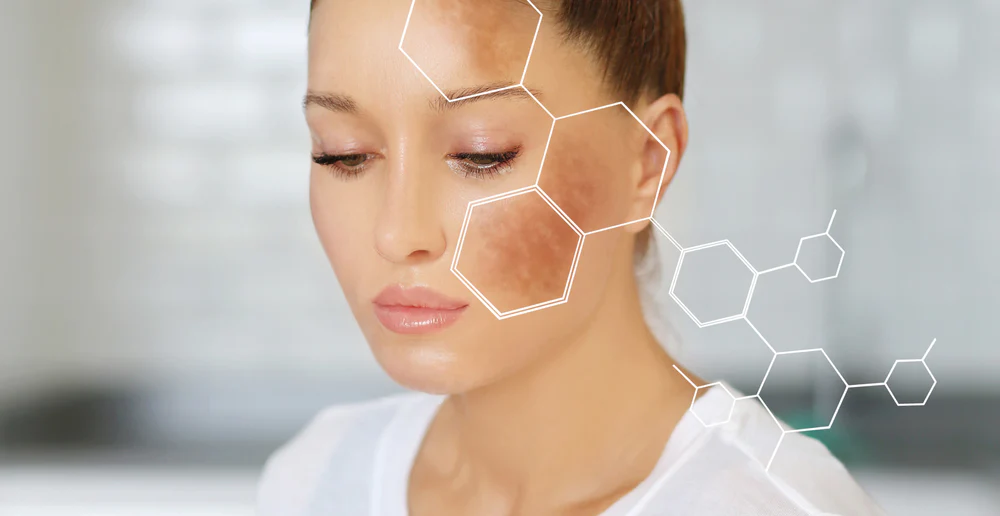 9 Views
27th October 2023
Skin pigmentation, an essential aspect of our skin's biology, is central to its appearance, protection, and overall health. The varied hues and shades we observe in human skin are the direct result of skin pigmentation. But, what exactly is it, what causes it, and how can it be treated when it goes awry?
What is Skin Pigmentation?
At the root of skin pigmentation is melanin, a complex polymer derived from the amino acid tyrosine. Melanin is produced by specialized cells called melanocytes, which are found in the epidermis, or outer layer of skin. Melanin's primary function is to protect the skin from the harmful effects of ultraviolet (UV) radiation. Depending on the type and amount of melanin produced, and its distribution, our skin can appear lighter or darker.
Types of Skin Pigmentation
Ephelides (Freckles): These are small, flat, light brown or red marks that are typically caused by an overproduction of melanin after sun exposure. They are most common in people with fair skin and can increase in number and darken with more sun exposure.
Melasma: Often known as the "mask of pregnancy," melasma is characterized by brown to gray-brown patches on the face. While it can affect anyone, it is more common in women, especially during pregnancy.
Solar Lentigines (Sunspots or Age Spots): These are flat, brown spots that appear on the skin due to sun exposure over the years. They often appear on areas most exposed to the sun, like the face, hands, and arms.
Post-inflammatory Hyperpigmentation: This type appears after a skin injury or inflammation. It's a darkening of the skin in areas where acne, psoriasis, or eczema occurred.
Causes of Skin Pigmentation
Sun Exposure: The most common cause, UV radiation from the sun stimulates melanocytes to produce more melanin, leading to tanning or sunburn.
Hormonal Changes: Conditions like pregnancy, or medications like birth control pills, can lead to increased melanin production.
Inflammation: Skin conditions or injuries can lead to increased pigmentation in the affected areas.
Genetics: Some people inherit a higher likelihood of developing certain pigmentation issues.
Medications and Treatments: Certain medications can increase skin's sensitivity to the sun, leading to quicker and more pronounced pigmentation.
Pico Laser Treatment for Pigmentation Removal
As science and technology advance, we've seen the rise of numerous treatments addressing skin pigmentation concerns. One of the most prominent is the Pico laser treatment for pigmentation removal in Singapore and globally. But, what makes it stand out?
The Pico laser is a type of aesthetic laser that uses ultra-short pulse durations in the picosecond range (trillionths of a second). Unlike traditional lasers that rely heavily on intense heat, Pico lasers shatter the pigment into tiny particles using rapid bursts of energy. These particles are then naturally eliminated by the body.
The primary benefits of the Pico laser treatment for pigmentation removal in Singapore include:
Speed: Its ultra-fast mechanism means quicker treatments and results.
Safety: The reduced reliance on heat means a decreased risk of burns or scars.
Effectiveness: Pico lasers can target deep-seated melanin without harming the skin's surface.
Versatility: It's not only used for pigmentation but also for tattoo removal and skin rejuvenation.
In Singapore, where the equatorial sun is relentless, and skin pigmentation concerns are prevalent, the Pico laser treatment for pigmentation removal in Singapore offers a cutting-edge solution.
In conclusion, while skin pigmentation is a natural occurrence, various factors can lead to its irregularities. Modern treatments, particularly the Pico laser available in Become Aesthetics Clinic in Singapore, provide an effective means of addressing these issues, ensuring our skin remains as radiant and healthy as possible.